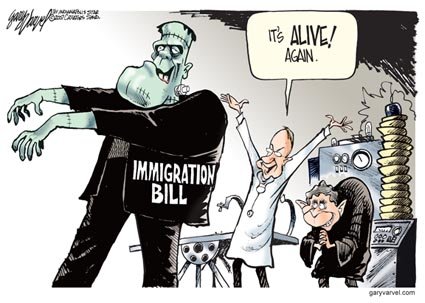 The Senate will vote on the Schumer-Rubio-Obama Amnesty bill on Tuesday, June 11th at 2:15 p.m.
The bill can be killed with this first vote if it doesn't get 60 YES votes.

There has been plenty of debate about this bill or the plans for this bill since January. After the Judiciary Committee made it clear that this bill will provide amnesty/work permits to 11 million illegal aliens before any new enforcement -- and will issue 33 million work permits to foreign citizens over the first ten years -- there is no need for more debate to know it is time to just kill the bill.
Details on the bill in a PDF file here.
And from Ohio Tea Party Patriots:
Brown and Portman Must Respect the Will of the People
(Washington, D.C. June 7, 2013) A statewide poll of likely Ohio voters finds strong opposition to a bill before the U.S. Senate that would grant amnesty to 12 million illegal aliens and dramatically increase overall immigration to the United States.
According to the poll
, 56 percent of Ohio voters oppose S.744, the Gang of Eight immigration bill - including 38 percent who said they are "strongly opposed." Click Here to See the Poll.
Rep. Labrador has left the Amnesty Gang of Eight due to his concern over the taxpayers having to foot the health care bill of illegal immigrants. Read More
Call Senators Portman and Brown and tell them they were elected to respect and represent the will of the people.
Schedule a few minutes on Monday to call both Senators. You might also wish to call Sen. Marco Rubio's office at
202-224-3041
or e-mail him
here
. What a disappointment he is!
UPDATE 6/6/13

: Add Senator Kelly Ayotte to your list. Here's her op-ed on why she will vote yes. Her phone numbers are at the bottom of the op-ed page.
There was some good news yesterday (Thurs.), reported at National Review online:
The House of Representatives

voted

224–201 Thursday morning to deny funding for the Obama administration's controversial Deferred Action for Childhood Arrivals (DACA) policy. The policy, which was

implemented

via executive order in June 2012, effectively assumes the enactment of the DREAM Act, legislation that has failed to pass Congress on multiple occasions, and has raised concerns about executive overreach

.